With a little time and labor, bland IKEA Karlsdad furniture can be transformed with mid-century details. We added tufting and legs to achieve the look!
Some months ago we became the owners of a used Ikea Karlstad couch and chair. They were free to us but in need of new slipcovers at least.
I replaced the old brown
slipcover on the chair
with a green one (apparently no longer available) back during the summer and recently put an Isunda Gray one on the couch. Even with plans to upgrade it further, I was nervous about how...
dormitory
...the couch looked at that point with the nearly shapeless cushions and block legs.
We purchased new
legs from Do It Best
and stained them a walnut color. Mike came up with a clever stand for easy staining by drilling some holes in some scrap wood.
If you've been reading recent posts, you have likely noticed that rigging up such gadgets is kind of his thing.
Since the legs do not fit into Ikea hardware, we also bought and installed the appropriate mounting plates from Do It Best.
To make the buttons I bought an Isunda Gray pillow cover for the fabric, a couple of
Craft Cover Button Kits
, and
long upholstery needles
. Those buttons were for sure the hardest part of the project. The tips of my thumbs and index fingers throbbed for a couple of days after knocking those out!
I followed the button tufting
tips from Oh Everything Handmade
. To determine the button placement I used round price tag stickers. They were easily adjusted and helped me to envision the final look.
I obviously chose to add six buttons on each cushion and am quite satisfied with the relaxed but tailored look.
Our total cost for this project was around $350.
If you want this look and have to buy the Karlstad furniture new (sofa for $399 and chair for $349), the total would come to about $1100. That isn't too crazy for a couch and chair, especially considering this Winston Velvet chair...
...is listed for $429 on One Kings Lane right now (marked down from $850), and the Petrie Sofa...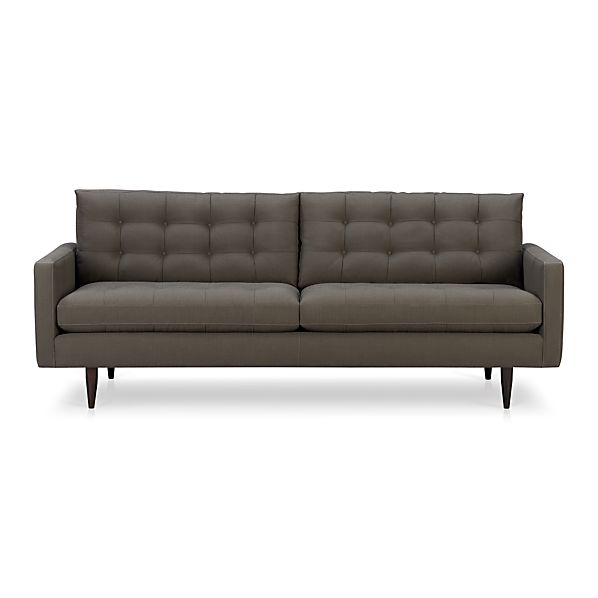 ...is currently selling for $1699 at Crate and Barrel. The quality is far different and the look is certainly not exact, but for roughly $1,030-$1,770 less, this project could be worth a few sore fingertips that resulted from upgrading our IKEA Karlstad furniture.